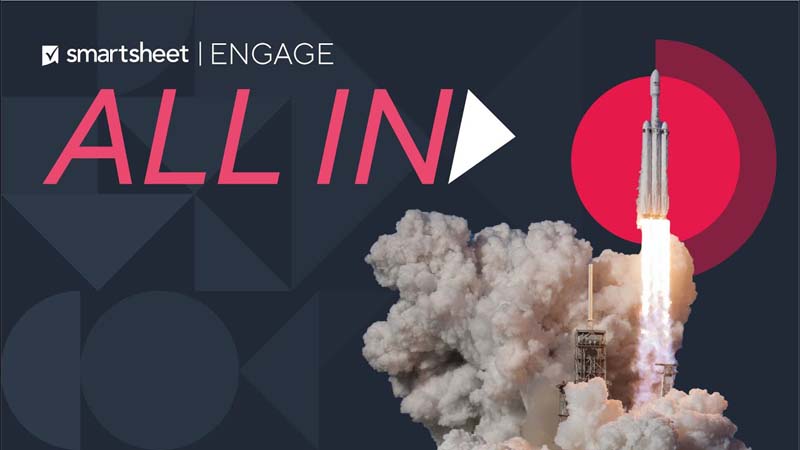 This week we were treated to lots of exciting Smartsheet news at their virtual ENGAGE conference.
They talked about new innovations, solutions and partnerships which continue to keep Smartsheet at the top of its game.
The overriding message was very much around how no-code technology can revolutionise the way companies create and grow. Mark Mader, CEO of Smartsheet said
"The combination of 'no-code' and 'enterprise-ready' has the potential to unlock something incredibly powerful, we see the emergence of the no-code enterprise as fundamentally representing a human opportunity—a moment in time where we have the chance to harness the most powerful force in business: human ingenuity and creativity."
Here are Cheetah's top 5 announcements from the Smartsheet Engage conference.
Smartsheet Advance is a new premium offering to extend the value of the platform to those companies working at scale. It brings together the premium features that users have told Smartsheet they need and use the most. There will be 3 tiers to Smartsheet Advance…
Process and Portfolio management at scale

Secure request management

Collaborator access to WorkApps

Data Connections
CRM and Software Development Integration to Salesforce, Jira, and Dynamic 365
Governance and Administration with connectivity to security management solutions

DocuSign functionality
One of the most exciting partnerships announced by Smartsheet is their collaboration with DocuSign. Available immediately in document builder, the DocuSign integration saves time by seamlessly creating documents, sending them for signature and tracking the status all within Smartsheet.
Another exciting partnership announced was the one with UiPath, a leading enterprise automation software company. The software can automatically update repetitive, manual tasks being carried out in Smartsheet such as updating project sheets, comments etc saving hours of time across teams.
A fab new tool that allows users to dig deeper into their Smartsheet data. Work Insights continuously analyses data and provides a set of metrics to enable users to get a deeper understanding of trends over time.
5. Smartsheet for Marketing
Smartsheet for Marketing takes the familiar power of Smartsheet and adds resource management, digital asset management and other premium capabilities Smartsheet offers.  It will become the launchpad for campaigns and allow marketing teams to be more personalised in their communications and incorporate scale with agility and flexibility.
The full 90 minute Smartsheet Engage conference is below: