Smartsheet Bridge

If your business or organisation depends on multiple systems and platforms to store data, Bridge by Smartsheet will enable you to connect the data, thus reducing the time you spend copying and pasting from one system to another. Better still, it allows you to create workflows to automate repetitive tasks.
Bridge is available within the Smartsheet Enterprise Plan. It operates using workflows – similar to Smartsheet; they begin working once they detect a trigger, and that's where you are in total control.
Workflows are triggered once they meet the conditions set by you. This will then activate a series of actions, giving you self-sufficiency over routine tasks.
Smartsheet Bridge overview
The workflows you build in Smartsheet Bridge are triggered by the criteria you create, enabling them to interact with your sheets in a variety of ways. The triggers could be dates or scheduled events, which you can use to prompt a series of actions.
The brilliant thing about Bridge by Smartsheet is that the workflows are not limited to events within Smartsheet, you can connect Smartsheet Bridge to multiple systems and platforms to provide autonomy for various areas of your business.
Workflows enable you to automate routine actions between different platforms or systems. By removing the risk of manual entry errors, it helps to increase precision and efficiency that can go awry in repetitive or routine tasks.
Using Smartsheet Bridge allows your organisation to:
Spend less time carrying out routine tasks, allowing you to focus on the work that matters.

Automate multi-step, cross platform processes and completely remove manual entry errors.

Build complex workflows with ease with the Smartsheet Bridge no-code user interface.

Increase business-wide efficiency and accuracy by connecting and building workflows across a range of systems.
Why Smartsheet Bridge?
Bridge by Smartsheet is a no-code solution. It allows you to create complex workflows between different systems without the need for a developer or complicated code configurations.
Smartsheet Bridge operates with a 'drag and drop' interface which can be simply configured by business users or IT teams without the need for coding knowledge.
Bridge is a tool that can be used to generate multiple integrations, rather than building each from scratch. However, 'developer built' solutions can be developed for more complex solutions if necessary.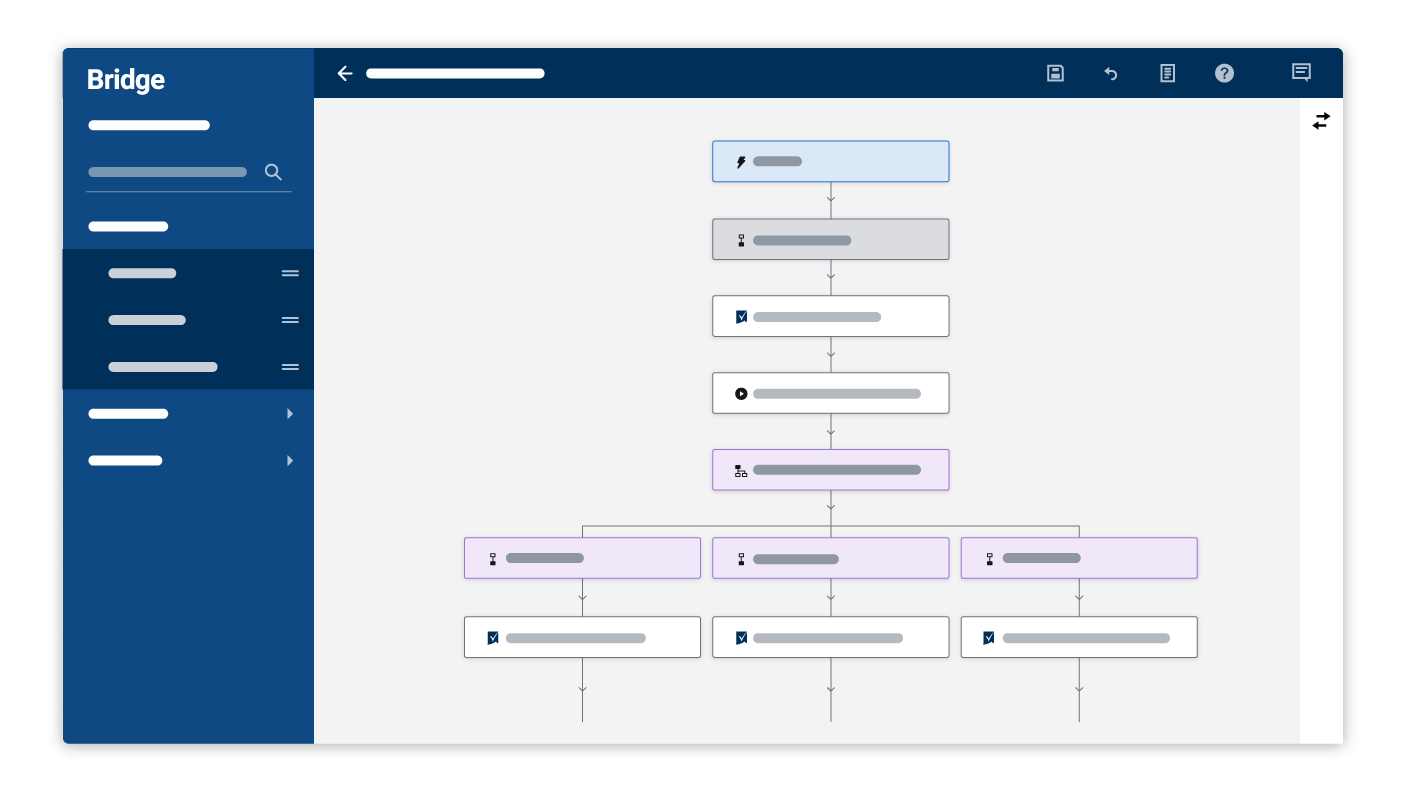 Smartsheet Bridge is a solution that is great for a range of organisations and teams. For example, Smartsheet Bridge is loved by logistics teams for tracking shipments, and events teams for tracking event RSVPs and attendance.
Smartsheet Bridge integrations
Smartsheet Bridge works with a range of applications and platforms including:
Salesforce
Google Ads
Facebook Ads
FedEx & UPS tracking
AccuWeather
Google Geocode
Google Translate
Marketo
Inbound webhook
SendGrid
Brandfolder
ServiceNow
SharePoint
Smartsheet
Smartsheet Resource Management
Buying your Premium Apps and Licenses from Cheetah Transformation