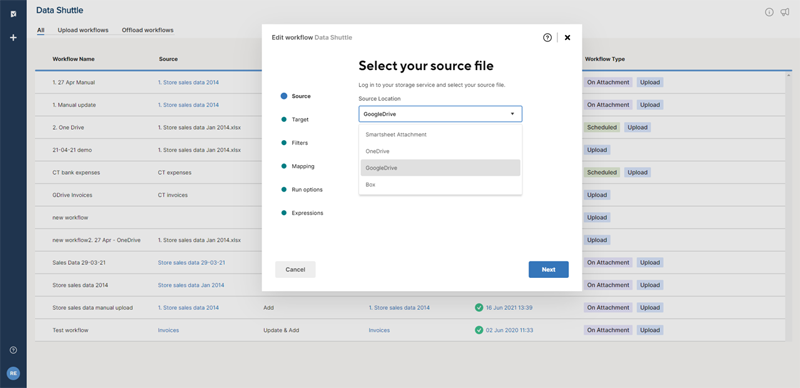 Data Shuttle from Smartsheet helps connect external systems, such as your CRM, ERP and Finance systems and bring data into Smartsheet effortlessly. Having up to date data in Smartsheet can save teams huge amounts of time and enables them to make decisions faster. Data Shuttle works by importing a CSV or Excel file, either triggered manually or via an agreed time schedule via external cloud source (currently Google Drive and One Drive). New functionality also enables teams to offload / export data from Smartsheet to other systems.
The tool, formerly known as Data Uploader, has 2 major enhancements:
You can now offload data from Smartsheet back into the CSV /Excel file
The interface has a sleek and modern look to aid usability
The most popular use cases for Data Shuttle to upload data to Smartsheet are:
Importing invoices from Finance system
Import hours worked from time tracking solutions
Importing expenses
Importing sales pipeline information from CRM's
The most popular use cases to use Data Shuttle to offload data from Smartsheet are:
Export key Smartsheet data to non Smartsheet users
Offload data from Smartsheet to other BI tools (Tableau / Power BI) or CRM's
Export complex data in a very simple structure for database ingests
To get Data Shuttle working, there are a number of steps to go through:
Select Source of file – is it a Smartsheet attachment (manually uploaded), or is the file saved on an external cloud service (Google Drive or One Drive)
Select the Target sheet – which sheet in Smartsheet will the external data replace / merge.
Create Filters – you can filter certain data so not all data is imported.
Map column fields – mapping the fields between your external data and Smartsheet as they may not always be the same.
Run option – how frequently do you want your data to update? For data held on external cloud storage, this can be from every 15 minutes.
If you would like to learn more about Smartsheet Data Shuttle, or if you would like a demonstration, please get in touch and we will happily showcase how Data Shuttle can add value to your business. Cheetah Transformation is a Gold Partner to Smartsheet, based in London, UK, and helps organisations maximise the benefits from Smartsheet, through building scalable solutions that work for your organisation.