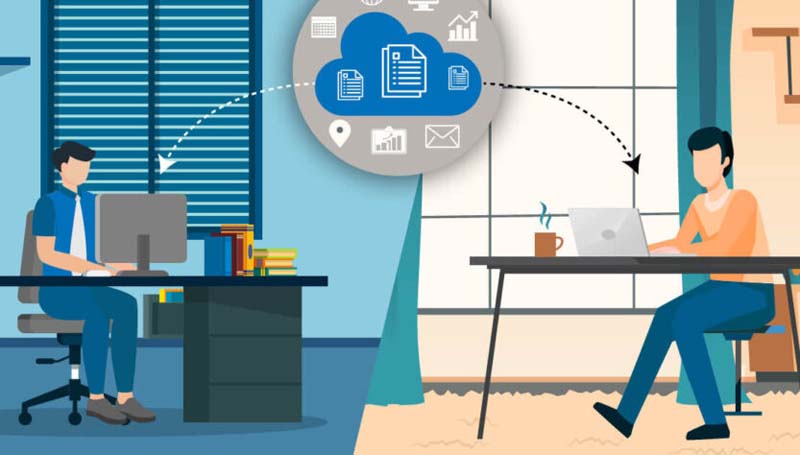 In this blog we look at how ways of working are changing, the impact of hybrid working and collaborative work management
Schools are all back in, usually the signal for life to return to "normal" for millions of people, but what does a normal working environment look like nowadays?
Prior to March 2020, 68% of British workers had never worked from home, (YouGov July 2021). Suddenly for many there was no choice, WFH was mandatory. People scrambled for the best wi-fi spot in the kitchen; tackled at home schooling between their own work; had pets, partners, kids join meetings, albeit often unintentionally. People learnt to adapt and as society started to open again, they saw benefits of working from home: better work life balance, more time for family & friends and even saving on commuting costs.
That was a seismic shift in the way we work and it is going to continue to change. 57% of people want to continue to work from home (You Gov, June 2021), they want to hold on to those benefits they have realised. Many employers have seen staff more motivated and productive, but it has been hard to have visibility of what everyone is working on and on the progress of initiatives. Harder still for new staff to integrate and for younger staff particularly to develop and learn "how to work".
At time of writing, Hybrid Working – type of flexible working where staff split their time between workplace and working from home – looks set to dominate the workscape for many industries and companies. In the UK, 40% of employers expect more than half their workforce to work regularly from home (CIPD).
This "best of both" needs to retain the upsides that have been experienced, while managing the downsides. For this to work well, organisations are going to have to put some thought and effort into this
Bet you think we mean creating new HR policies; having co-channel meetings; changing tax codes; thinking about office space and so on. That will all be very important but for hybrid working to truly succeed we need to see a complete re-evaluation of work.
If the way we work has changed then the way in which work is managed or processed also has to change. It is not as simple as shouting across the office to check if something is on track. Conditions need to be in place for organisations to flourish; collaboration and communication needs to happen in a different way.
As Gartner, the world's leading research and advisory company has recently said, "The level of interest in collaborative work management has been growing steadily over the last few years, with a notable rise consistent with growth in remote working".
Collaborative work management (CWM) is the use of a set of tools, on one central platform, that provides employees with an easy way to share business information & documents; work on projects together; provide updates on initiatives and communicate with one another.
Launching a strong CWM into your organisation means:
It doesn't matter where you employees are, they can still collaborate and contribute
Status updates, action requests, approval request etc are automated, saving time for everyone
Initiative information is all in one place, not spread across multiple documents in multiple places or locked away in employees' heads or personal drives
There is one version of the truth, and everyone can see it, increasing transparency and accountability across the organisation.
At Cheetah Transformation, we are a partner to leading CWM platform, Smartsheet, and it is on Smartsheet that we get our work done. We build bespoke Smartsheet solutions for a wide range of organisations, who all are looking for improved consistency, collaboration, visibility and transparency of information.
We wouldn't do this if we didn't use Smartsheet ourselves. At Cheetah Transformation, the team have never worked in an office together, so we rely on Smartsheet to keep us collaborating and our business developing.
As your team start to establish their new normal, this is the time to re-evaluate how work is delivered in your organisation. If you are ready to find new and better ways to work, and thinking about a CWM, tailored to your needs, then book your discovery call today but following this link.