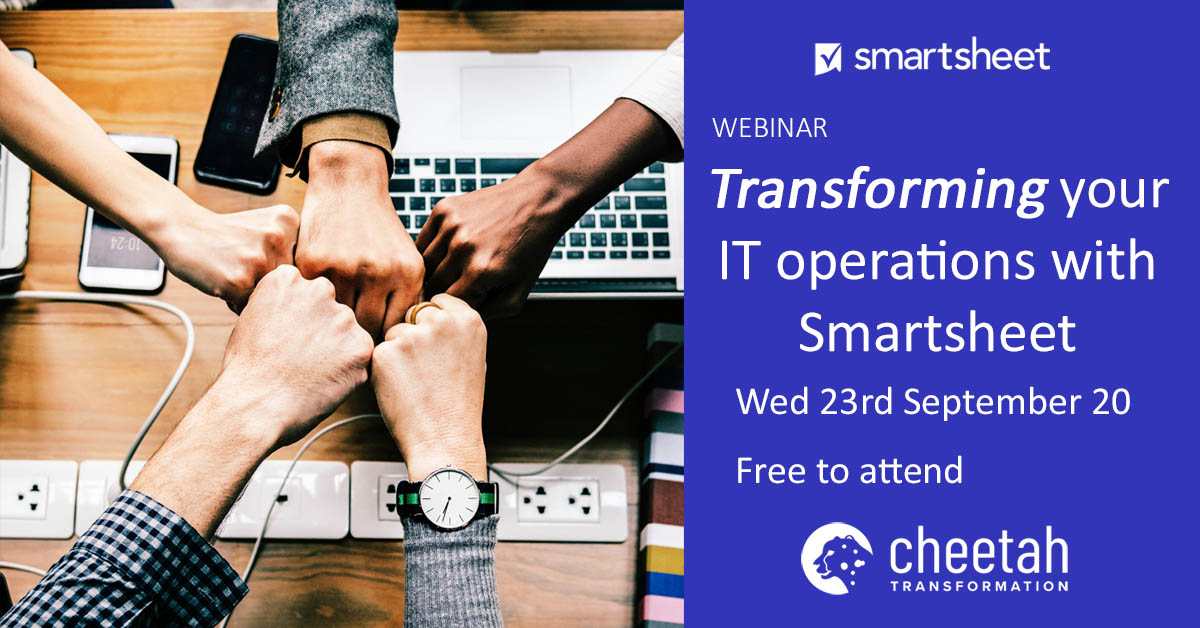 We are delighted to be running a webinar with Smartsheet on 23rd September 2020 around transforming IT Operations. This seminar is aimed at IT Managers at small and medium sized businesses who want to learn how Smartsheet can help save them time when they manage IT requests. and provide transparency across their business.
In this 60 minute webinar, we will demonstrate how the solution will overcome some of the common frustrations that IT Managers experience, which revolve around:
Lack of visibility on status

How to accelerate urgent requests

How to identify who in your team is busiest

How to avoid manual work taking actions from emails

How to gain approval from the business quickly
The demonstration will cover a number of key elements when building a S,artsheet solution and includes:
Creating a Tracking sheet

Creating a form that enters data on to tracking sheet

Building some reports to identify various items that can be displayed on a dashboard

Showcasing key data and actions on a dashboard

Highlighting key metrcis from the sheet on the dashboard
This transforming your IT Operations with Smartsheet webinar is free to attend, and you will have the chance to ask questions. To book your place, register here. Cheetah Transformation is a channel partner to Smartsheet and provides a range of training and events to help customers accelerate their Smartsheet learning.