Day 1
The Smartsheet Global Partner Summit, the annual gathering of Smartsheet Partners from around the world, took place the day before ENGAGE2022 opened. Big topics on the agenda were the product roadmap and a great new training programme, in which the full Cheetah team will be taking part.
Alison Robb, Cheetah Transformation's Marketing Director, was invited to present at the Global Partner Summit, to talk about the bespoke Smartsheet solution developed for Forterra plc.
The highlight of the event was the annual awards ceremony. Cheetah Transformation had a great summit, taking home two accolades:
Partner Solution Spotlight Award for Alison's Forterra plc presentation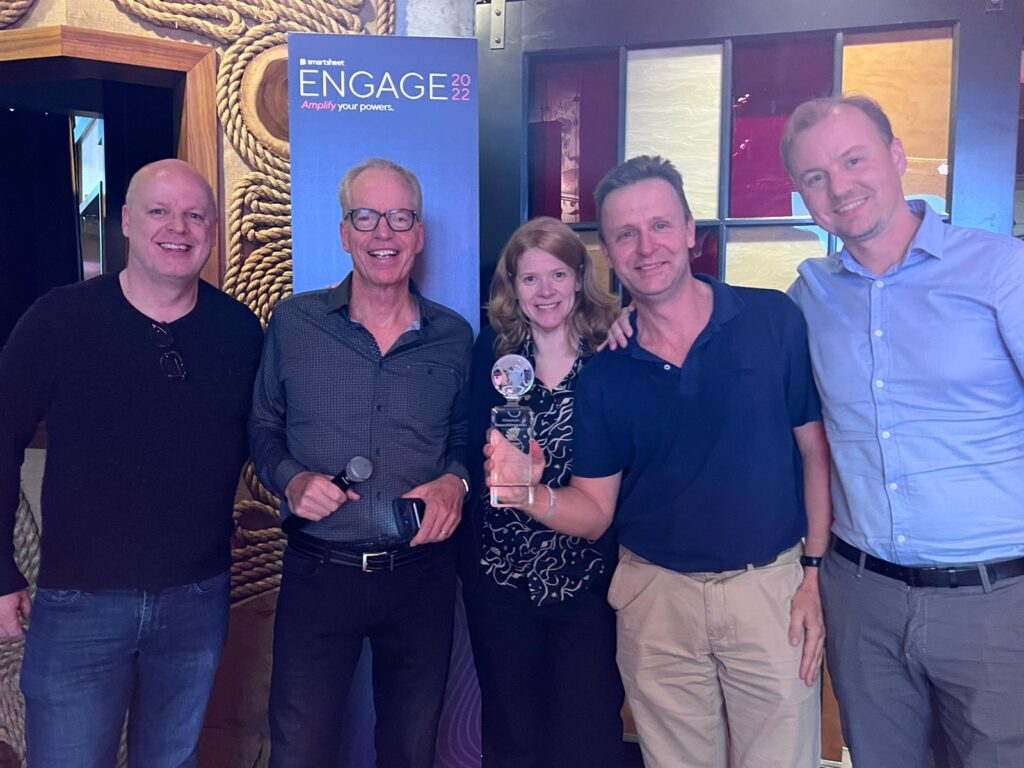 Gary Thornton, Steve Stewart (Smartsheet Global Channel Director), Alison Robb, Rob Eberstein, Andreas Bansen Schallitz (Smartsheet Head of Channel – EMEA)
Day 2
The first full day began with a rousing set from Emmy-nominated DJ Ravi Drums and the opening keynote speech from Smartsheet CEO, Mark Mader. Key themes from Mark included:
Continuing focus on integrations across the tech stack.
How asynchronous working (when employees don't all work the same set hours or locations) means we all need to rethink how we structure work, and how to maximise the benefit when people are together, either virtually or in person.
Relevance of scaling appropriately in every organisation that has repetitive tasks, not just in big organisations.
McLaren F1 Racing's CEO, Zak Brown, gave an inspiring presentation about his organisation's journey with Smartsheet. There are some great learnings for all of us from the McLaren F1 Racing experience:
Continuous development and improvement are the lifeblood of an organisation. A car that is on pole in the first Grand Prix of the season, will not remain there without adaptation. Without change, that car will be at the back of the grid by the end of the season.
You can't spend your way out of problems. With a cost cap now in place in F1, teams can't just reach for the chequebook anymore. They need to think innovatively to deliver change and improvement.
Create a culture in which trying things out is encouraged. Failure will happen, learn from it, and don't make the same mistake again.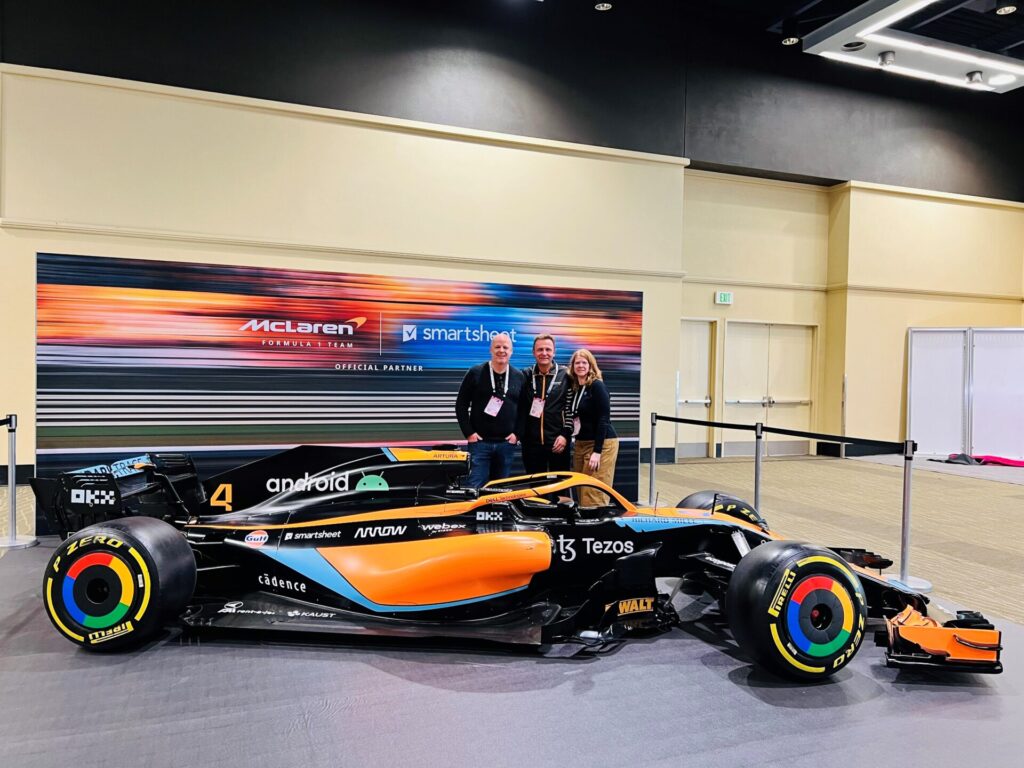 There was a range of great presentations covering the very recently live and the upcoming changes in Smartsheet. We've condensed the key take-outs from those presentations by Smartsheet's top team.
Smartsheet Core
Card View in Reports – Available now.
Work Insight information for  sheets – Available now.
A new home page design and improved search facility – Coming soon.
Functional change to reports meaning that if a column name changes in a sheet, it won't disappear from your report (this got the biggest cheer of the day!) – Coming soon.
A new easy onboarding option that helps new users begin to work with  potential use templates and a helper tool – Available now.
Desk Top App  – Coming Soon. We are excited about this and you'll be hearing more about this from us at launch.
Improved Smartsheet Security
New Deactivate User function to make it easier to handle the assets of those leaving the organisation either temporarily or permanently – Available now.
Improved custom email domains – Coming soon.
New data egress functionality,  for Advance Platinum customers, allowing  control what information is allowed to leave Smartsheet   – Coming soon.
New integration with Okta for single sign on – Coming soon.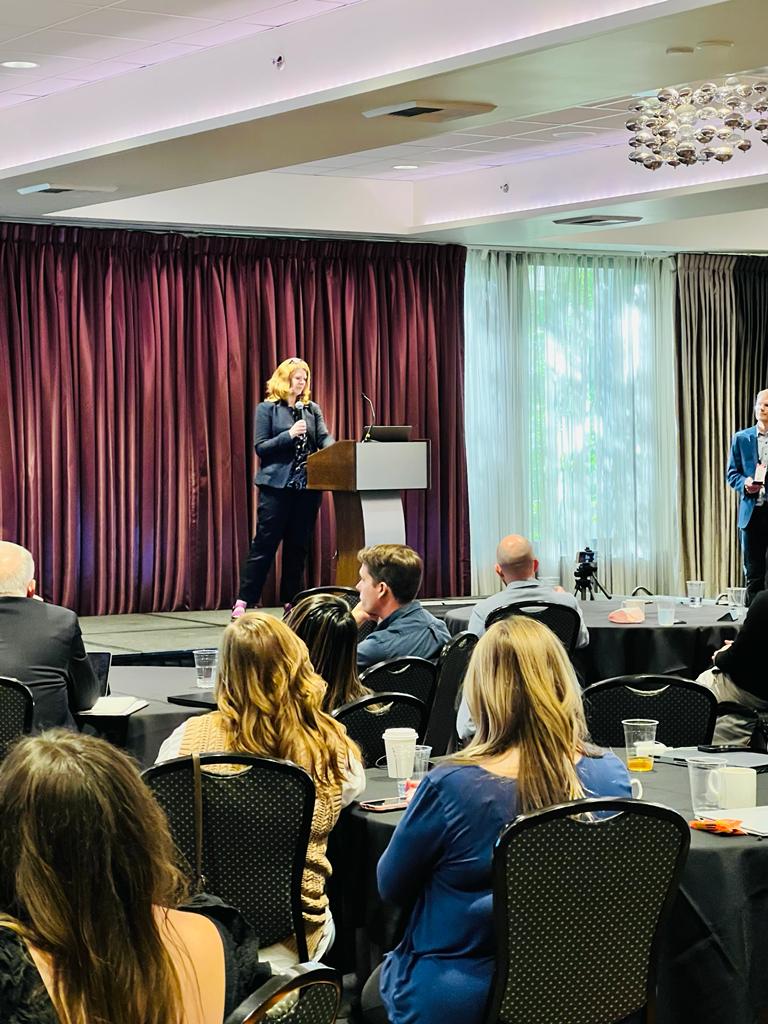 Alison Robb presenting on day 1 of the Smartsheet Global Partner Summit.
Resource Management by Smartsheet
Smartsheet Control Center
Brandfolder
Continuing integration with Smartsheet and others across the tech stack including Salesforce and HubSpot – Coming soon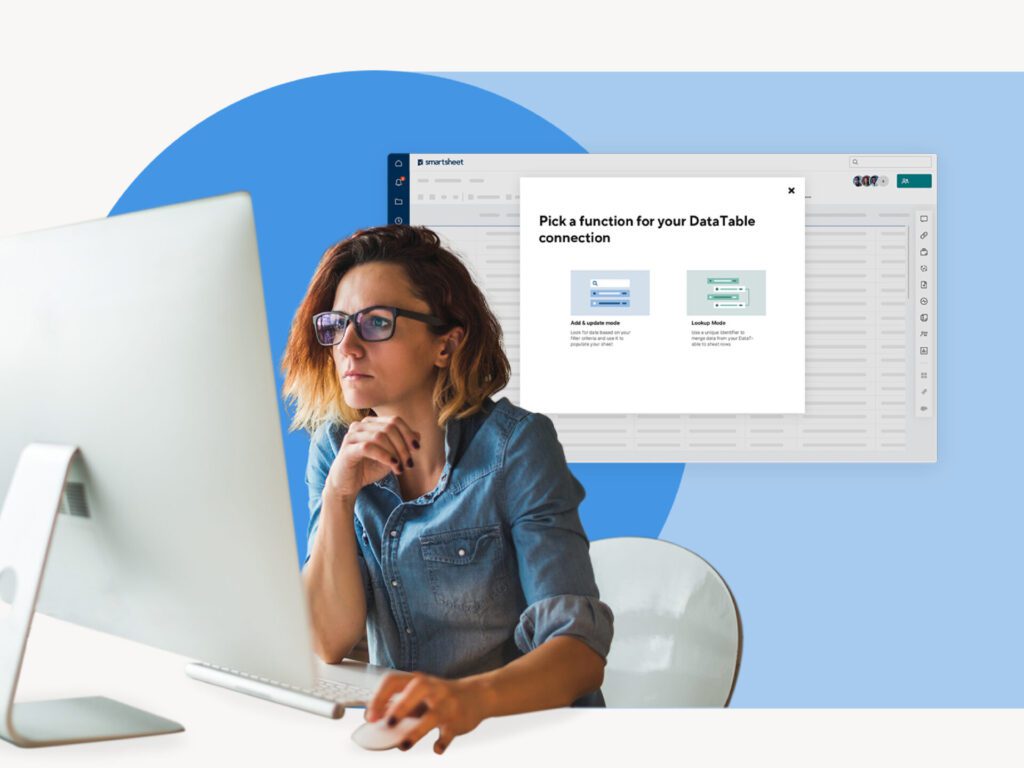 Day 3
The headline event on day three was the Smartsheet Overachievers Panel discussion hosted by CMO, Andrew Bennett.
Five very different companies who use Smartsheet were represented on the panel by the person who has led their Smartsheet journey.
The organisations represented were: Lumenomics, KPMG, Uber, Climate Pledge Arena, and Cisco. There are some big names there, but they have all been through the same experiences that organisations go through when introducing a Smartsheet solution.
Andrew Bennett led a spirited and informative panel discussion, with a lot of practical advice, and we've condensed the absolute best of that advice.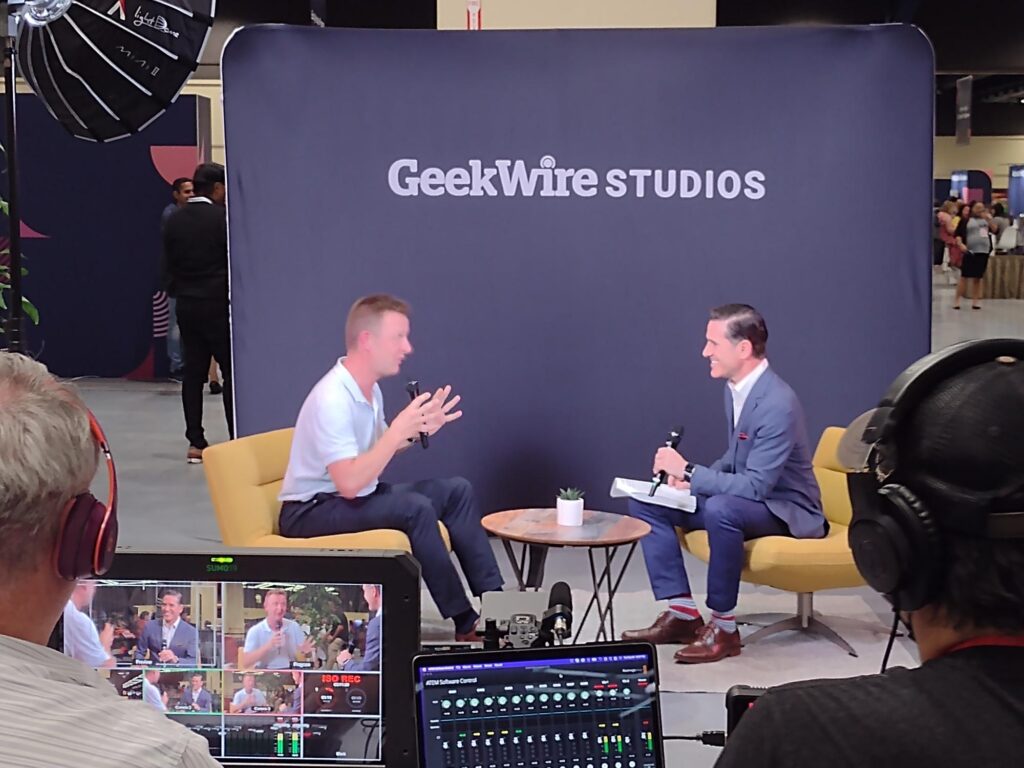 Rob Eberstein being interviewed by Matt Lorch of Geek Wire Studios.
What was your biggest learning with Smartsheet?
Get your IT team and your leadership team on board with case studies and share any cost benefits you see. Lead with the facts and evidence and it will make it easy for them to support Smartsheet use in the organisation.
Onboarding is critical. For anyone who will touch Smartsheet, show them how Smartsheet and your solution will work. Demo, demo, demo was the message. Make sure everyone sees one!
Build onboarding and training specific to your solution and use cases. Make 'how to videos' or have them made for you. Make them in the language of your company and industry, don't try to make them formal or different. They need to reflect the reality of what people will experience.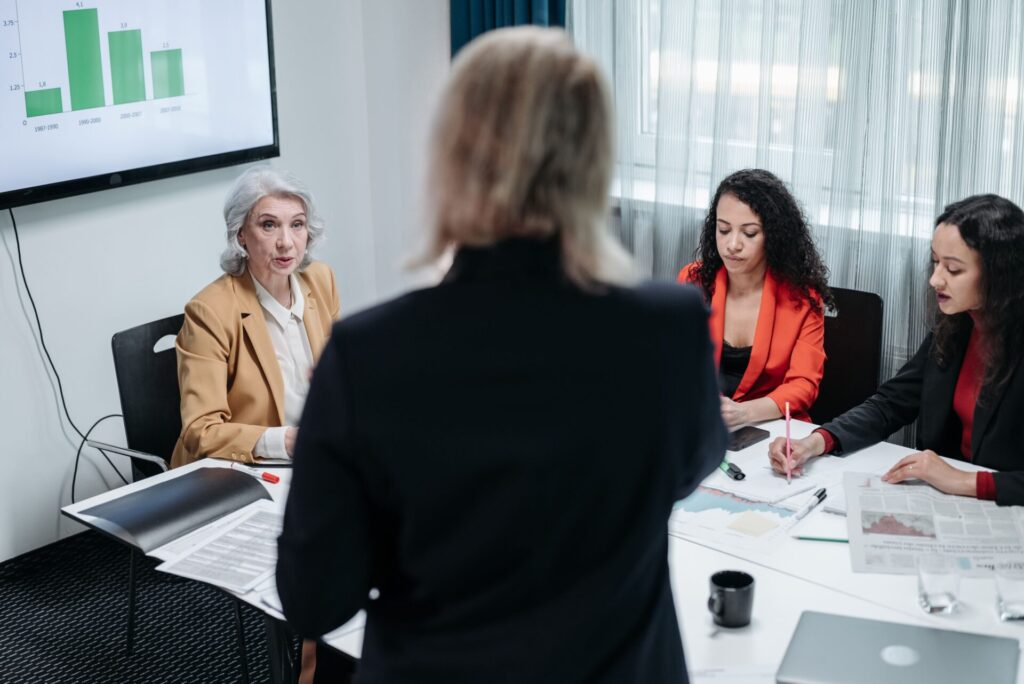 What advice would you give to someone on Day 1 of using Smartsheet?
Back up EVERYTHING.
Get your autosave set up correctly.
Think about the User Experience (UX) and User Interface (UI). Focus on it as if you were developing a new product or service for a customer. This really matters. Training the team really matters. Adoption really matters.
Use sheets, reports and dashboards to share best practice. It sounds obvious, but sometimes it gets missed.
Take your time to understand what problem you are trying to solve. Get your foundations right before you add the bells and whistles. Take your time on this, it is so important to achieving your objective.
Use the tool.
Work out what must happen in the first five seconds of use from the user's perspective.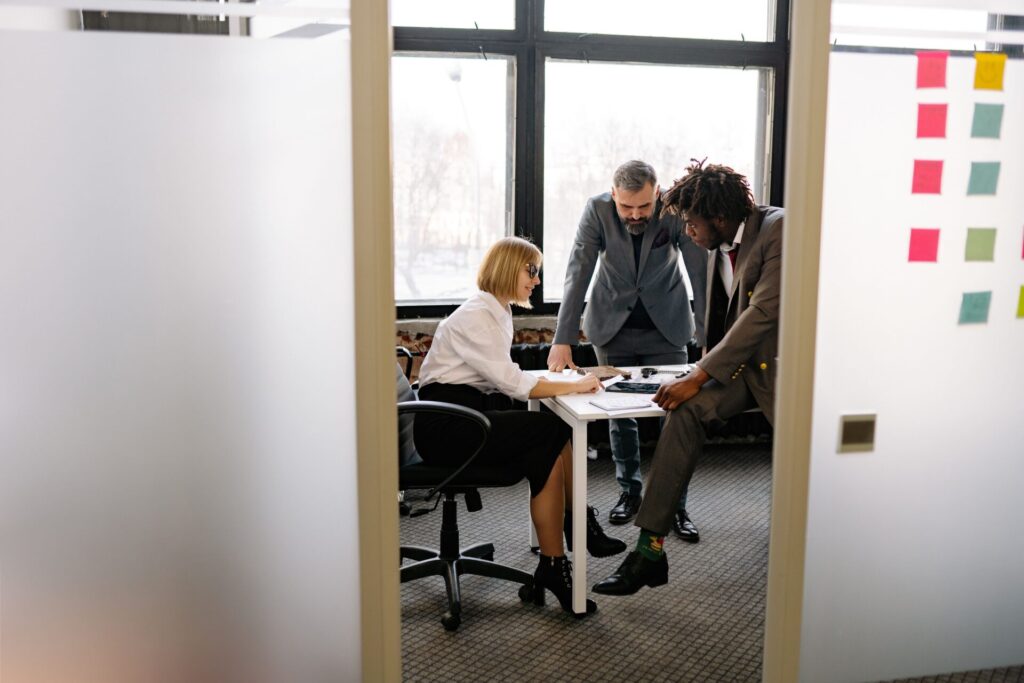 What do you wish you had known when you started?
Restricted rights on Brandfolder, it would have saved a lot of pain.
Click the right pointing arrow for forwarding.
If you are deploying Control Center, get the experts in – you are deploying something complex.
Get your dashboards right. They are displaying information to senior people in real time, so they matter. Make sure you deliver the information to the decision-makers in a visual way, they are not in the sheets or system every day, so make it easy for them.
The fact that blew our minds today was that the Climate Pledge Arena needs 543 marketing assets for every show that it puts on. In the next 60 days, it has 42 shows. That is 22,806 items to be designed, proofed, produced and published for those shows. It's all being done in Brandfolder, and they never miss an item.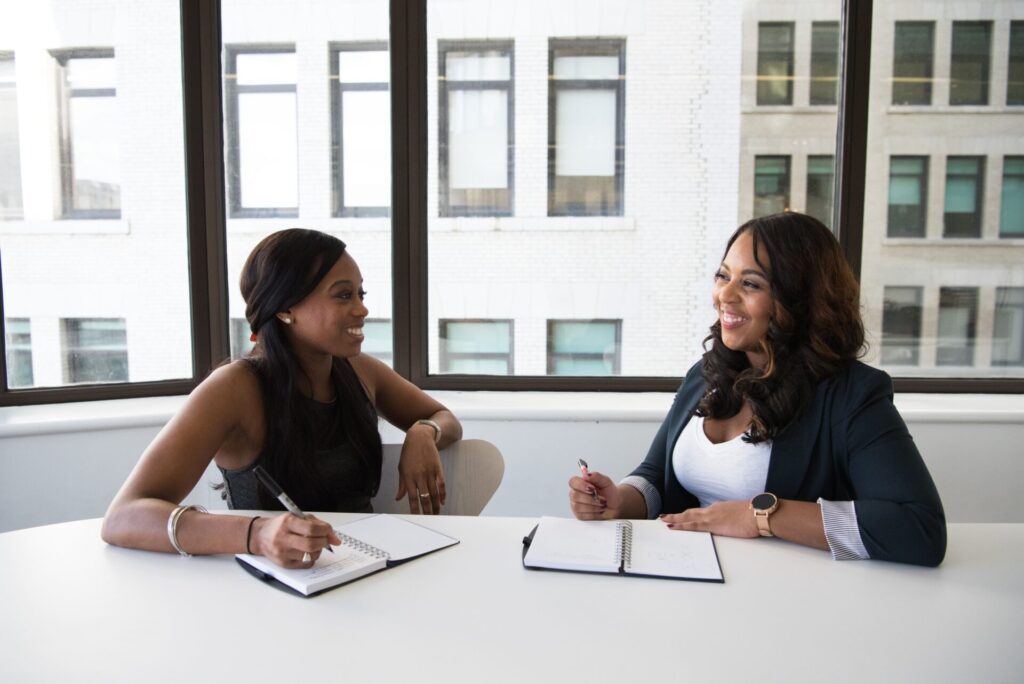 Day 4
The final day of Smartsheet ENGAGE2022 took on a slower pace, with everyone focused on attending the final product and skill spotlight sessions.
Between them, Rob, Gary and Alison attended 30 sessions over the period of ENGAGE2022, covering subjects as diverse as Digital Asset Management to Security and Governance Best Practices. We will be sharing our learnings and best practices with you over the coming weeks.
With so many Smartsheet specialists on hand, we have been able to have in-depth discussions on many aspects of Smartsheet and its use. This dialogue has enabled us to represent our customer's viewpoints to people who design and build Smartsheet. We have raised issues and worked together to find solutions to some of the challenges we all face.
If you asked us to raise a specific matter with Smartsheet, we will be coming back to you with their response shortly.
Taking the time to reflect on everything we have heard and seen at ENGAGE2022, we are excited and inspired by what is planned for the next few months and what is on the roadmap for the next 18 months to two years.
After the challenges of the last few years, we are grateful for the opportunity to meet so many people from across the world and the Smartsheet universe in person.
A huge thank you to Smartsheet for the colossal amount of work it takes to run an event like ENGAGE2022. We look forward to continuing to develop and deploy great solutions incorporating all the great new features.
– Rob, Gary and Alison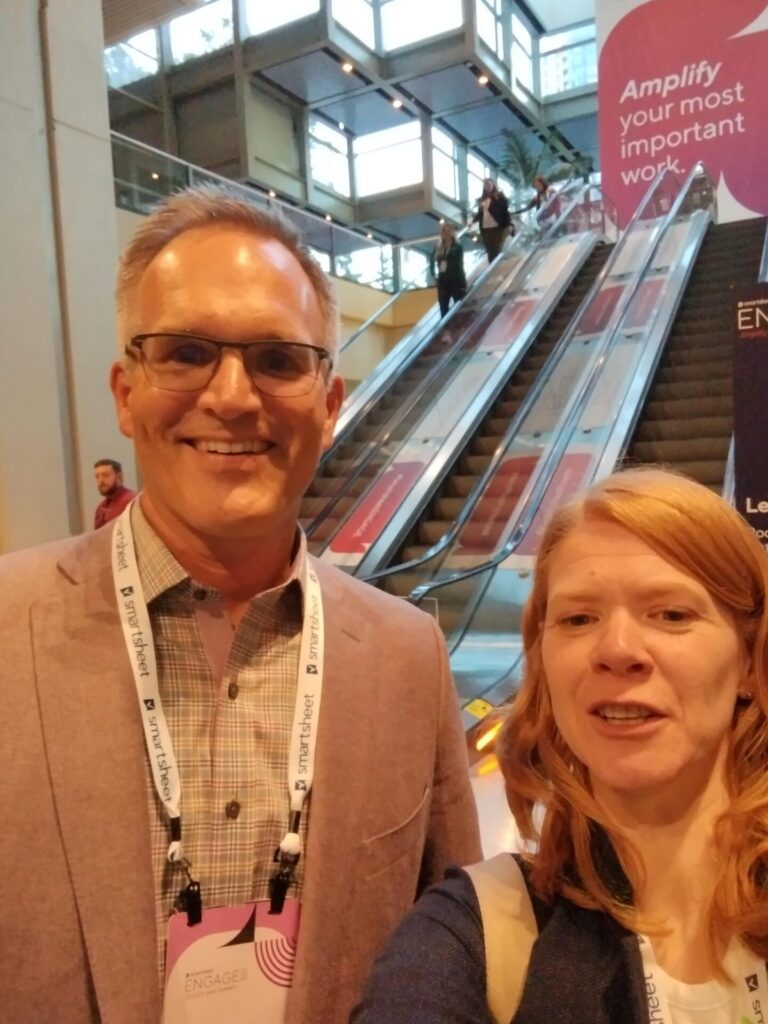 Mark Mader, CEO of Smartsheet and Alison Robb.